This season inspiration is found in flowers and the 1970s boho style. Floral patterns and prints are on trend but it could be difficult to incoporate it to our daily outfits.
Floral tights  are cute and feminine and it is really simple as you can wear lace hosiery. But you can wear it in stockings, hold ups and even anklets and knee hights, yes those you  wear in your teen years. Playing with texture is a must since you will find embroideries, floral lace, large and small floral prints. 
Other option are crochet tights but they are too thick to be worn during the warm weather season.
However, my favorite option are the floral printed hosiery, a trend that continues from last season with velvety style tights or sheer ones.
So when you try a folk inspired look you can opt from  plain matt  sheer tights and fishnets and if you want a more risky option you habve the lurex tights. In any case your hosiery will incorporate a touch of sophistication to your outfits.
This season monochrome outfits are a must. So total looks are on trend. Then matching dress or skirt, jacket, shoes , bags with socks and tights  will be esential.
Nudes and pastels such as vanilla, pale pink or peach even baby blue.
Pure white tights  and if you keep you bridal stockings it is time to rescue them.
Neons are in full swing so dare to wear them from head to toe.
And do not forget sunny yellow, emerald green and other bold colors.
To conclude here you have other options for trendy hosiery. The first  one is to incorporate fishnets with your denim and something I have considered  horrendous is completely on trend: mix your sandals with tights and socks. And the bolder, the better. 
And do you rememberthe knee  highs you were in your teens, yes they have made a come back especially paired with cycling shorts, feminine dresses and pleated skirts.
With this said, tell me what hosiery trend is your favorite?
Have a nice day. Blessings and hugs.
Como todas las temporadas me gusta hacer un repaso del tipo de medias y calcetería más en boga esta temporada.
Como inspiración básica aludiría a la inspiración floral del estilo boho chic de los 70.  Y las flores pueden ir en pantis, medias y calcetines a la altura de la rodilla e incluso en forma de calcetines tobilleros. Y como estampado principal las flores bien en medias de encaje, medias con bordados, medias con formas aterciopeladas en relieve o con estampado floral. La tendencia son las flores…
Esto con vestidos boho pero hay opciones más arriesgadas como el llevarlas con denim o  leggings e incluso algo que siempre he considerado horrible como es llevar calcetines o medias con sandalias.  Si si esto está de moda. Y los calcetines a media pierna combinados con faldas plisadas de largo midi,  pantalones ciclista y vestidos, siendo esto último la opción más combinable.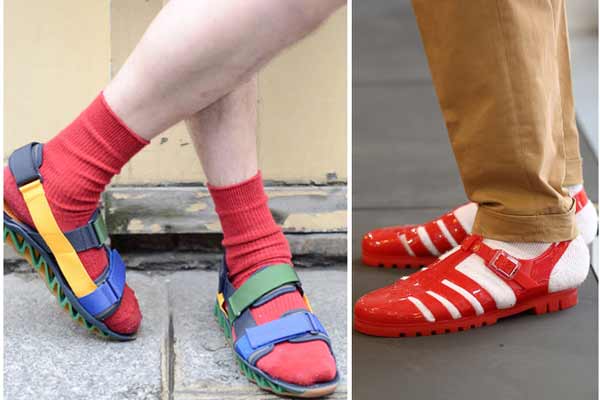 En cuanto a colores podemos hablar del blanco así si conservas las medias del día de tu boda, puedes rescatarlas y darles una segunda oportunidad; también se llevan los colores suaves como los tonos vainilla y rosa palo o los vibrantes como los neones y los fucsias, esmeraldas y amarillos. Está última opción se suele llevar en forma de looks monocromáticos, es decir, el mismo tono de pies a cabeza. 
Con lo dicho, ¿qué tendencia os gusta más? ¿ Cuál consideráis la más ponible? Bendiciones y besos infinitos.