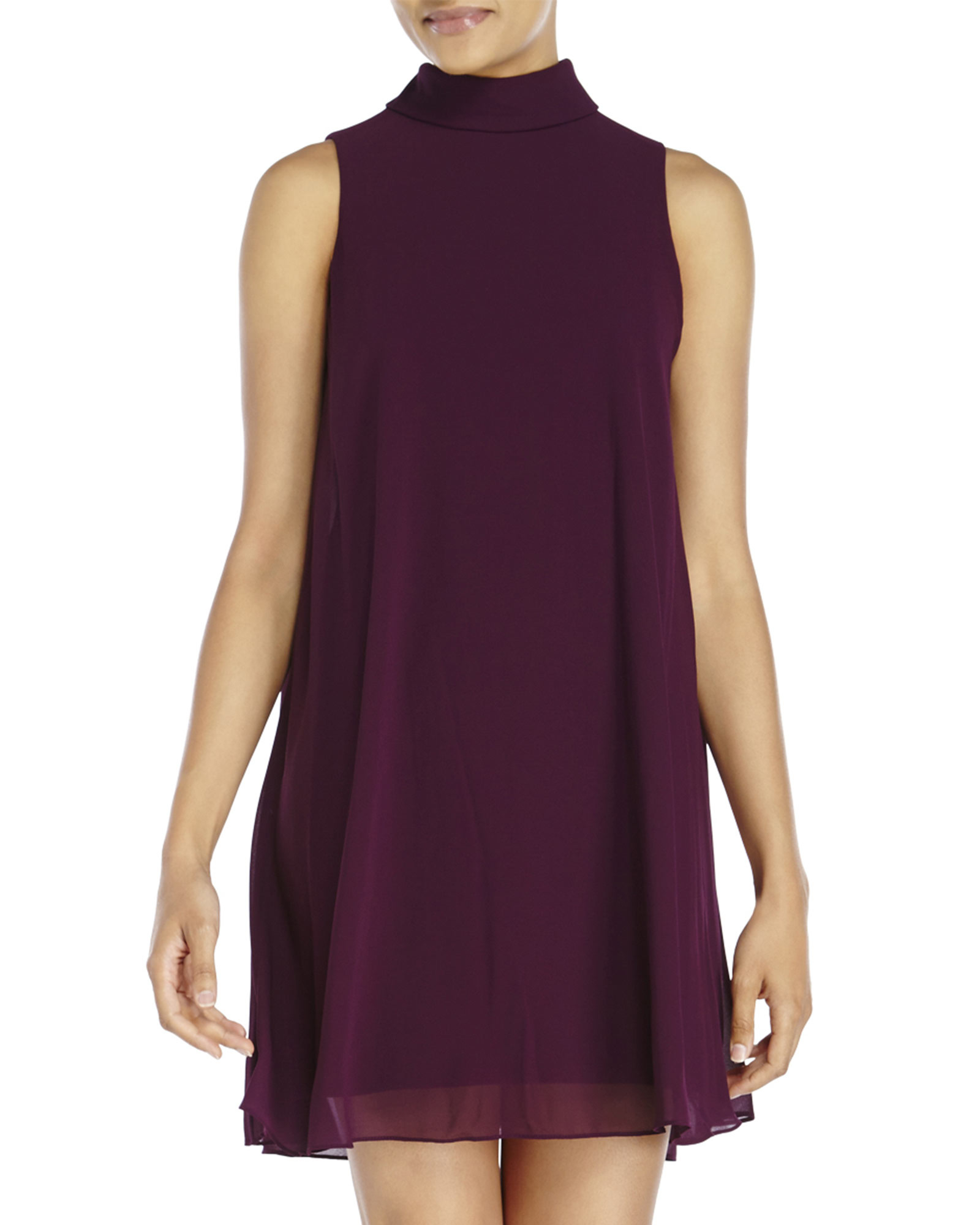 As a stylist I have been asked repeatedly one question: What is the difference between shift and sheath dresses?  Both styles sound similar but also have something in common as both refer to uncomplicated dresses with a knee length. The main difference is that the shift dress fitted around waist and hips. Usually has a more trapeze or A line design
On the other hand, the sheath dress takes its name from the straight lines similar to a knife sheath.
Then is simple to distinguish them: the shift dress has a wider skirt than the top while the sheath is narrow, with equal measurements at bust and knees.
If it is summertime I opt for shift dresses but in winter I have some sheath dresses which not always look flattering on me as I have a bottom-heavy frame, but I can rock them using knit pieces
 With this said here you have my summer version a shift dress for this summer. It is a Vince Camuto fashionable piece because it is ultra violet, short, it is sleeveless featuring a mock turtleneck an exposed back zipper and a fitted inner dress.  
As I had some errands to make I simply paired it with long amethyst earrings, a big amethyst ring and my Guess grey bag and light grey ballerinas. 
Are you a shift or a sheath dress girl? Why?
Have a nice day. Blessings and hugs.
 Hoy traemos una disquisición fashion pues una de las preguntas que más me hacen cuando tengo presto servicios profesionales de asesoría de imagen. ¿Qué diferencia un shift dress de un sheath dress? En primer lugar, quiero poner en común sus semejanzas, son vestidos fáciles de llevar que llegan a la altura de la rodilla. Y ahora las diferencias. El shift dress es un vestido línea trapecio, es decir, es más amplio en la parte de la falda que del cuello mientras que el sheath dress mide lo mismo en la zona del pecho y debajo de la cintura, por tanto, es más ajustado.
Teniendo una talla grande opto por el vestido línea trapecio en verano o cuando lo quiero llevar solo mientras que recurro al vestido recto más ajustado cuando lo puedo llevar con una chaqueta larga que camufle un poco las líneas ceñidas.
Por ello, si tenéis algún vestido de este tipo que es tan versátil y arreglado para ir al trabajo lo podéis aprovechar de esta manera si os ha quedado un poco justo.
Y con la distinción hecha vamos al look de hoy. Un vestido línea trapecio de Vince Camuto en el color del año, ultra violet. Me encanta este vestido sin mangas porque es muy desenfadado y simple para el verano, pero a la vez resulta elegante. Tiene una capa externa de chifón sobre un vestido de punto más ceñido que le da movimiento. Asimismo, presenta un cuello tipo coquilla  y una cremallera expuesta en la parte de la espalda. Como tenía muchos recaditos que hacer lo combiné con unos pendientes largos y anillo de amatista que quedan en la misma gama que el vestido y unas bailarinas y bolso en gris claro.
¿Sois más de shift dress o de sheath dress?
 Feliz día. Besos infinitos.