Walking out of winter, a new season is approaching, we begin to prepare our wardrobe to the spring fashion and lots of new trends are waiting for us.
However, even though the cold is almost gone we still need to keep our legs warm; this is the time when knee high boots and opaque tights give way to thinner hosiery. And speaking about hosiery this season will be socks season. Yes, this trend is not for everybody and for sure it is not in my wish list.
The most stunning socks seen are: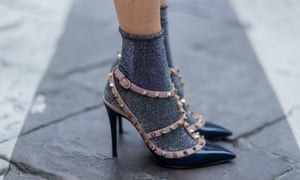 or our hated half leg socks when we were school girls.
My intention is to incorporate part of the trend in form of fishnet tights or socks if I wear jeans or trousers. Maybe they are not the warmest ones, but they are versatile, chic and stylish. The question is how to wear them without looking tasteless and cheap.  If you pair them with a boho dress, you will look romantic or for those who love jeans, style them under your favorite pair and they will add an edgy touch. 
Wear them the way you prefer, fishnet tights and socks will add an extra to your outfit. Fishnets can be found in different styles: high or low, micro or wide weave.
Ways to wear them are infinite and here I will suggest some of them:
A way to give an extra touch is to pair black fishnets with a black skirt and a blazer.
To add extra texture, you can replace opaque tights and wear them with knee-high boots
Under high waisted jeans or with ripped jeans make you look edgier. Or just let fishnets peek out from under pants.
To give heels a fresh twist wear the ankle version
A way to make you denim skirt more glamorous is to pair it with fishnets.
And now where you can find them
HM offers medium weave black and blush fishnets at incredible prices nowadays during the sales
Asos has Gipsy Large Scale Fishnet Tights in black as well as 2 pack of oversized fishnet tights in one size.
For fishnet socks here you have this chic version and these ones in white to wear with your favorite sneakers.
My favourites for  plus size women are ASOS CURVE oversized fishnet tights
as well as FOREVER 21 which have them in red.
Wish you a pleasant Sunday.  See U in the next one