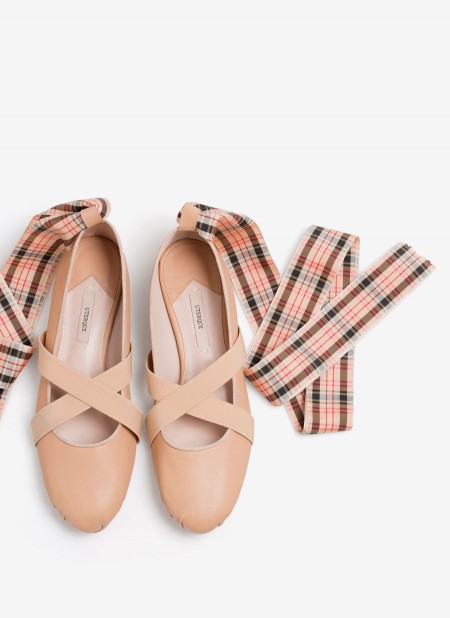 One of my favorite things about fashion are  CLASSICS. When I say classics, I am talking about items that never go out of style, can be worn in hundreds of ways. Besides, if the classic item is also extremely comfortable, it is a closet staple.
And what is more classic than leather ballerina flats. Everybody needs at least a pair of them, and in my case lots of them as I cannot wear high heels.
For me ballerina flats are a cute shoe that does not sacrifice comfort and are a timeless classic. Maybe they are not wintertime flats but as weather begins to warm up and we feel spring is around the corner, then it is time to bring out my ballet pumps.
However, I must admit I wear ballerina flats all year round and make them winter appropriate by pairing with cashmere leotards or opaque tights. Ballerinas are delicate, sophisticated and elegant. On the other hand, they are highly versatile being suitable for different occasions.
But what are ballet flats?
They are a type of French shoes inspired by the delicate real ballet dancing shoes. Ballet flats usually are lightweight and flexible giving you a free foot feeling when you walk. The classic design includes rounded toes and sometimes are plain while other times include delicate bows, jewelry or other embellishments at the front. As they have become more popular, the traditional design has incorporated more design features such as  platform soles, ankle straps, pointed toes, open sides and many others.
What occasions can ballet flats be worn for? This is a common question that can be complemented with this one: are there any occasions when I should not wear ballet flats? As far as I believe, I will not wear ballet pumps to a very formal event such as black-tie event. Apart from that , you can wear ballet flats practically everywhere.
For the office simple and soft leather ballet flats are cute. The most appropriate ballet pumps are those with neat and rounded design and flat sole striking making a good balance between smartness and comfort.
For a party when you want to look polished and dress up you can try all the embellished and jazzed-up styles. Glittery and studded leather ballet pumps could be paired with dresses and skirts. 
For a wedding outfit full of elegance and grace you can wear ballet pumps as  they are the perfect companion for your wedding guest outfits. Then opt for pale pastel colors such as cream, pink and powder blue to keep your wedding attire soft, elegant and delicate.
For an interview you need a smart and sharp look. And you can get this effect by wearing a sturdy pair of leather ballet flats. Try to choose the plainer rounded toe styles with minimal embellishments and wear them with a smart above the knee dress or skirt or even with smart trousers.
And for everyday occasions flats are perfect with jeans, for running errands or for travelling.
To end this post some tips on what to wear with your ballet flats to make them look their best.
Wearing tights and stockings or socks with ballet flats can be risky as they create pleats and wrinkles around the ankles but if they are the right size this could be avoid easily.
Ballet flats with wide ankle straps can visually shorten your legs. If you have short legs, I recommend avoiding ballet pumps with straps or lace-up around your legs.
Go to nude-colored ballet flats as they have a leg-lengthening effect when worn with bare legs or nude tights.
Show some skin as ballet flats look really flattering when the lower leg or ankles are on display. Dresses and skirts above the knee and cropped trousers that show your ankles are the best option to be paired with your ballet pumps. In case you wear below the knee dresses or skirts, then opt for loose and flowing skirts.
Play with accessories as the simplicity of the ballet flats plays well with statement accessories such as necklaces, a bold belt or a colorful clutch.
Being inspired to wear flat more often? What are your most comfy shoes?
Have a nice day. Blessings and hugs