Velvet is back to stay or maybe this is my personal wish. With lace and crochet are my favorite fabrics. Perhaps if I were younger I would have included corduroy but nowadays definitely lace, velvet and linen are my staple fabrics.
I am one of this person who thinks you can wear velvet in multiple occasions. The other day one of my friends told me it was too dressy, but I persuaded her it was not. Then we did a Q&A on how to wear velvet. Here you have the most significant questions my friend made …
What do you love about velvet?
The softness and luxe of the fabric as well as the elegance it transmits.
Why do you like velvet so much?
Because it is cozy and makes me feel empowered due to the richness and texture of the fabric and the iridescences it has. It brings back to my childhood when we had a velvet dress for weddings and church celebrations. While my sister preferred my dress, and loved the design of hers.
Is velvet appropriate for all occasions?
For sure it is. However, you must keep in my that it is a bit heavy to be worn in summertime as well as worn incorrectly could be childish and over-the-top feminine but in the right dose makes you look gorgeous.
How would you style velvet?
Here I include some ideas on how to style velvet. If you have more ideas to add to the list, don´t hesitate to let me know.
I like to pair a maxi skirt with a comfy velvet blazer. Another way is to accompany a fancy dress with a velvet blazer.
For those who prefer just a little touch of velvet without overdoing the trend, what about velvet flats? They look royal.
On the other side, for those who love to make a positive impact just combine soft velvet leggings with a knit sweater. It is a simple way to polish your everyday outfits.
Another attractive combination is a velvet mini skirt with tights and a blazer for a professional attire.
I would like to add a delicate velvet kimono to my collection as it will give a sophisticate touch to a very simple outfit.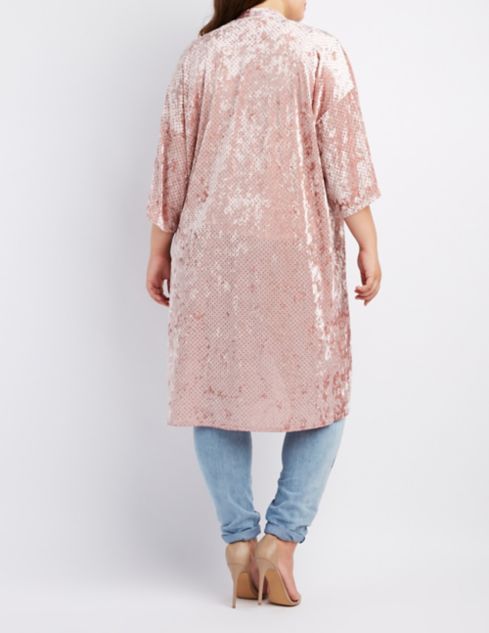 How would a plus size senior incorporate velvet to their style?
I have three suggestions on how I add velvet to my wardrobe. These are the velvet blazer, the dress in two versions -the girly delicate dress in a pastel color and the skater dress in a rich tone-  and the powerful kimono or top.
Would you use velvet to accessorize?
Yes, it is a brilliant option and it can be made in form of a velvet handbag, a pair of velvet embroidered loafers or a velvet scarf.
By the way do you have any questions on how to incorporate velvet to your style, feel free to ask them. I will be waiting for them.
That´s all folks. See U in the next one.
El terciopelo es un tejido rico y lujoso que ha vuelto para quedarse o por lo menos eso me gustaría a mí. Junto con el encaje, el lino y la seda forman el grupo de mis tejidos favoritos. Quizá si fuera algo más joven añadiría la pana. Así que estoy como unas castañuelas con su vuelta a la escena de la moda. Es tendencia y como tal se lo han tomado algunas, pero yo lo admito como un clásico. Así que cuando una de mis mejores amigas me dijo que no era para ella le dije que estaba segura de que sí y al final se compró unas bailarinas y un bolsito de terciopelo para probar.  Me preguntó cómo lo combinaría y le di varias opciones que resumo aquí para no aburrir y hacer este post eterno…
Me gusta combinar una falda maxi con un blazer de terciopelo en un color neutro o quizá acompañar un vestido sencillo con una chaquetita corta de terciopelo.
Para aquellas que prefieran no pasarse con la tendencia simplemente unas manoletinas en terciopelo quedan fenomenales.
Por otra parte, para aquellas a quienes les guste impacto con sus estilos pueden llevar unos leggins de terciopelo con un jersey de punto oversize. Es un modo sencillo de dar un toque especial a un look de diario.
Otra combinación atractiva es una mini falda de terciopelo con medias opacas y un blazer para un look profesional.
Una añadiría un delicado kimono de terciopelo para dar un toque sofisticado a un atuendo sencillo de diario.
Espero que esto os resulte útil y prometo rebuscar en mi armario para sacar un par de looks con el terciopelo como base.
Esto es todo por el momento. Si tenéis alguna pregunta, no dudéis en plantearla.
Besos infinitos y bendiciones.