One of the trendiest embellishments of the season is embroidery. Embroidery upgrades instantly every simple outfit and it is a way to make minimalist dresses pop.
Embroidered bombers worn over a monochromatic ensemble elevate your outfit. Even if you are not very fond of  wearing embroidering in your clothes , you can use a handbag with an embroidered design. However, you can not abuse on this trend and my advise is only one embroidered piece per look because too much pattern or color does not look elegant.
It is usual to have denim jackets and kimonos , little black dresses and skirts with embroidery but you also can find shoes, belts and handbags with this type of design. It is quite popular to have off the shoulder peasant blouses with flower embroideries or jeans with the same type of embellishments.
Here you have some suggestions on how to wear embroidering this season:
Cotton shirts with floral embroidered designs look good over bodycon neutral dresses or over a t-shirt and skinnies.
Another way to incoporate embroidery is to invest in a pair of skinny jeans with floral embroidered  designs.
Denim jackets with embridered motifs look great if  you pair them with a neutral outfit.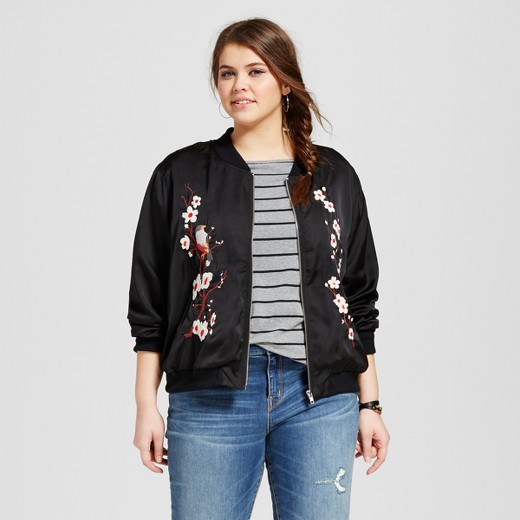 Flowy  peasant blouses with nice embroidered designs look impressive and you can find them in all colors and with all kind of designs these season. They elevate your outfits instantly.
Another way to elevate casual pieces is to pair them with a satin embroidered bomber jacket or kimono.
Other examples of how to combine pieces in a more formal way:
A black classic blazer with a cute white button down shirt and a leather emboridered mini -skirt are office appropiate combo.

Black coats with embroidered coloful motifs are also good for formal environments.
As you can see you have multiple options to adapt this trend to your style. My favorite way is to wear embroidered dresses and kimonos but I admit that jeans and jean skirts look gorgeous too.
Now it is your turn to look for your favorite embroidered piece and let me know how do you style it. Love and peace.
Esta temporada se llevan los bordados en todo tipo de prendas, desde los sofisticados kimonos con mariposas, flores y delicadas plantas hasta las estilosas faldas vaqueras con bordados florales en tonos vivos pasando por los alegres blusones con bordados geométricos o diseños florales, Lo ideal es llevar solo una prenda y que el resto del outfit esté en la gama de lo sencillo y no muy rebuscado. Para aquellas que no se atrevan pueden añadir un bolso con bordados y aplicaciones en colores suaves o unos zapatos con aplicaciones bordadas…
Una se inclina por los vestidos y las blusas pero me encantaría tener un abriguito bordado con flores… A ver si ficho uno para el próximo otoño. Ahora sois vosotras las que debéis elegir vuestra opción favorita. Y me contáis cuál es. Besos infinitos. Seguimos en contacto.